Podcasting for Peace: Fight or Flight?
Find this article at:
go.ncsu.edu/readext?606858
Written by: Michael Kokozos, PhD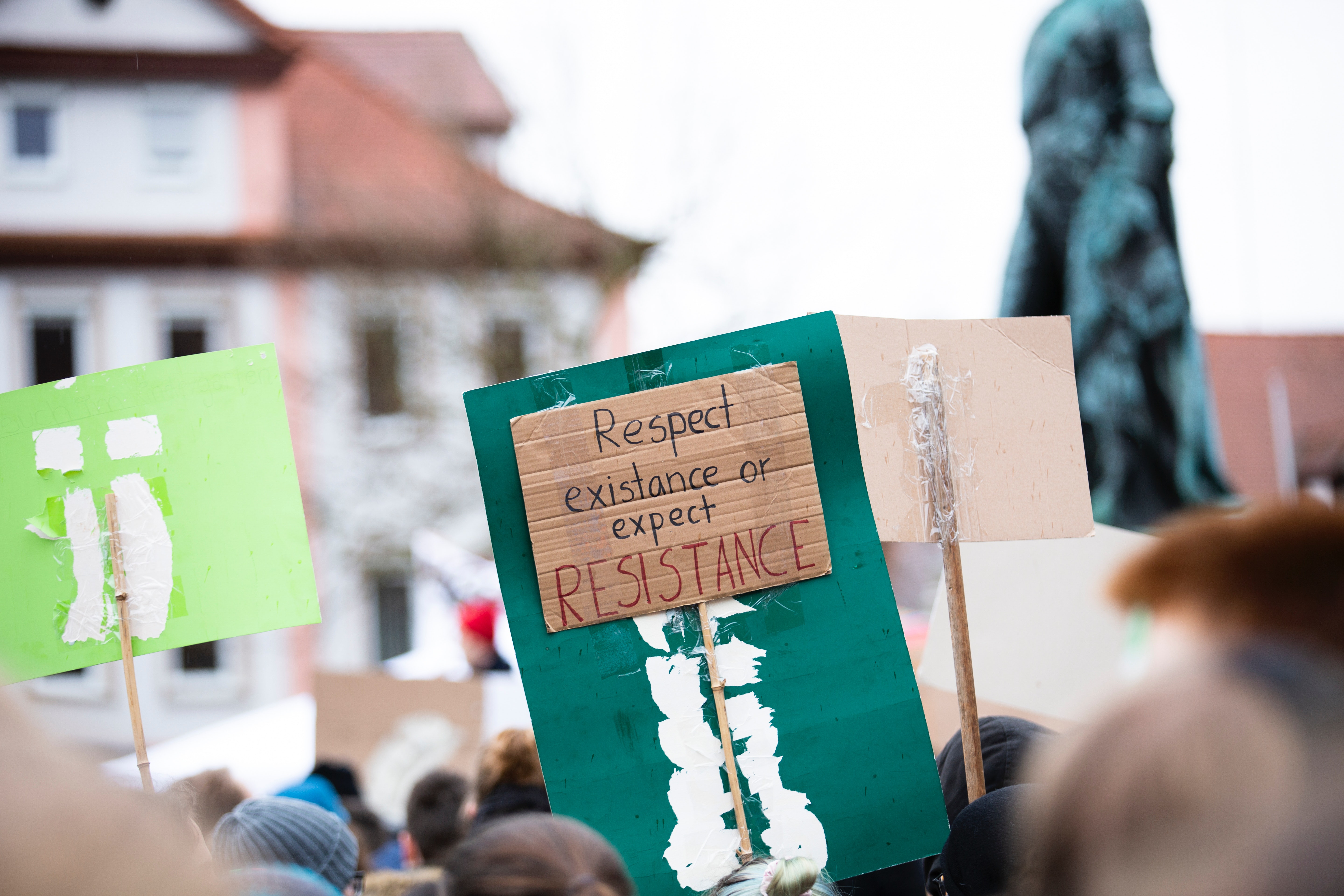 The concept of fight-or-flight, defined as the physiological response to a perceived harmful event, attack, or threat to survival, captures my students' assessment of the recurring thematic response to global political phenomena. We FLEE, escaping dangerous or potentially dangerous situations. And we FIGHT when internal sovereignty deteriorates as a result of natural and human-made disasters, conflicts, and wars. Inspired by #PassTheMicYouth's podcast, my global politics students produced their own episodes as a way to humanize humanitarian crises taking place all over the world. They discovered that storytelling is a powerful way to ameliorate conflict while bringing fight-or-flight to life.
For example, students studied migration patterns and civil uprisings in the Middle East and South America, such as those in Syria and Venezuela, respectively. In addition, they studied the implications of international responses to Hurricane Katrina, Irma, and the 2010 earthquake in Haiti. One photo lingered: the young girl who became the poster child of family separations at the US-Mexico border as well as liminality — the ambiguous straddling of more than one space when fighting and fleeing, in this case, succumbs to exhaustion. Despite excellent resources, such as Displaced, they noticed an absence among podcast productions: those created for, by, and about youth.
As a creative and reflective process of narration, podcasting has the power to disrupt mainstream discourses by rendering marginalized identities as more visible, which is especially potent given the way that youth are increasingly capable and willing to avoid the dangers of a single story, as Chimamanda Ngozi Adichie so brilliantly illuminates in her famous Ted Talk. #PassTheMicYouth, in addition to expanding single-story narratives about young people, allows educators to highlight some of the world's most pressing social issues while bringing in youth perspectives often missing from the conversation.
I had the unique opportunity to share with my students the premiere episode, Not Your Mother's Activism, which covers the role of young activists, social media as a tool for social change, and a poignant student account of the recent Nicaraguan protests. My students were not only confronted with the theme of FIGHT or FLIGHT head-on but because these issues were being presented in a more authentic, youth-centered manner they perceived the stories as highly relevant and engaging, connecting intimately with the universal themes of love, family, sorrow, etc. reflected in the painful passages of protest and (in)voluntary migration-related journeys.
One of my students, for example, shared: "We think about #MeToo and #BlackLivesMatter and what it means to dissent here in the [United] States, even how these movements have become global and yet there are countless fights taking place all over the world…the right to oppose cannot be taken lightly; in fact, it's a right made up of many other human rights; it's a method of hope to obtain or maintain a number of other human rights…rights are precarious. Nothing is guaranteed. Nothing should be taken for granted. You have to keep on fighting to exist, to be heard, to be a part of the conversation." Such student reflections demonstrate the benefits of using youth-led, youth-centered podcasts such as #PassTheMicYouth in the classroom. What follows are questions for discussion that were inspired by the premiere episode and can assist educators in extending the FIGHT or FLIGHT dialogue.
Questions for Extended Dialogue, inspired by episode 1
FIGHT
 "In activism work, it can sometimes feel like you are just one person trying to make an effort, but there are so many people around the world doing this work and making the world a better place." To what extent do you agree with this narrator? What contributes to the sense that we are carrying the burden of social change alone? What is available to us to be more connected? What possibilities remain?
 Sidney mentions a video of an activist who exclaims, "Forgive me, mom…I have to do this…for my country." Sidney details her own relationship with her mom as well. In fact, the title of the podcast is "Not Your Mother's Activism." What is the significance of mothers in activism through the ages? What about the role of women in general? What do these words suggest about the responsibility of adults and youth in shaping a more peaceful future?
 How has the role of protest changed significantly over the last two to three decades? Remained the same? Given these comparisons and contrasts, what other strategies (e.g., models of leadership, principles) ought we consider to reconcile intergenerational tensions among activists?

 On 29 September 2018, President Ortega declared that political protests were "

illegal

" in Nicaragua, with Ortega stating that demonstrators would "respond to justice" if they attempted to publicly voice their concerns. What rights are being violated according to the

Universal Declaration of Human Rights

? What is an appropriate response by the international community, including the United Nations, as well as other state and non-state actors?
 Identify other ongoing protests. What are the objectives? What are the ways in which these methods of non-violence are capable of paving a path towards peace? Is violence ever legitimate in the pursuit of social justice?
 Today, social media from Twitter to Instagram can reach individuals throughout the state and across the world launching protests in seconds. What are other ways in which social media is shaping activism, for better or for worse?
FLIGHT
 Define and reflect upon the following terms: asylum-seeker, refugee, immigrant, migrant, expatriate. When do we use the terms and what do these terms suggest not only about law and policy, but positions of power?
 Draw the ideal immigrant. What comes to mind? What are the characteristics of exemplary residency in another country? In what ways does the good and bad immigrant hierarchy reinforce systems of oppression?
 What is the difference between an ethnic enclave vs. a diaspora? What do you think of cultural communities that are formed as a result of immigration? Does this help or harm the state?
Consider cultural practices and traditions, such as language. How do these practices and traditions enhance or hinder the development of a state? Enhance or hinder a pathway towards peace?
 What problems or possibilities might arise within a "borderless" world?